Solar Cell Tester Solar Cell Sun Simulator - Solar Panel Making Machine
Machine Function
Use to test the electrical performance of Mono-Si or Poly-Si solar cell pieces and record the results in files.
Machine Features
1. Key components use import abroad brand
2. A grade spectrum
3. A grade unevenness degree of irradiance
4. four-line measurent,14-bit 4-channel high speed synchronous acquisition card
5. 10 parameters display and Measurement Parameter displays in Tabulation and Graphic way
6. Pneumatic and buffering contact
7. Temperature automatically compensating
8. Voice counts off and prompts, Counting prompt of flash times
9. 24 continuous work
10. Import Xenon Lamp.
Technical Parameter
MODEL

OSCT-A

OSCT-B

Lamp spectrum

In line with iec60904-9

spectral Irradiance distribution requirement(AM1.5)

Light intensity

700-1200W/Mm2 continuous adjustable range

Light intensity non-uniformity

≤±2% 【A】

≤±3%

Light intensity Instability of Irradiance ( STI )

≤±0.5% 【A】

≤±2% 【A】

Light intensity Non-Uniformity of Irradiance(LTI)

≤±2%

≤±2%

Test results consistency

≤±0.5%【A】

≤±1%

Single flash time

10ms

Effective test range

230×230mm/0.1W-12W/5BB-12BB

Measuring voltage

0-0.8V(resolution 1mV)

Measuring current

0-20A(resolution 1mA)

Test parameters

Isc、Voc、Pmax、Vm、Im、 FF、EFF、Temp、Rs、Rsh

Power supply

AC220V/50HZ/2KVA

Air supply

0.5-0.8Mpa

Weight

160KGS

140KGS

Machine Dimension

800*600*1750mm

800*600*1850mm
Detail picture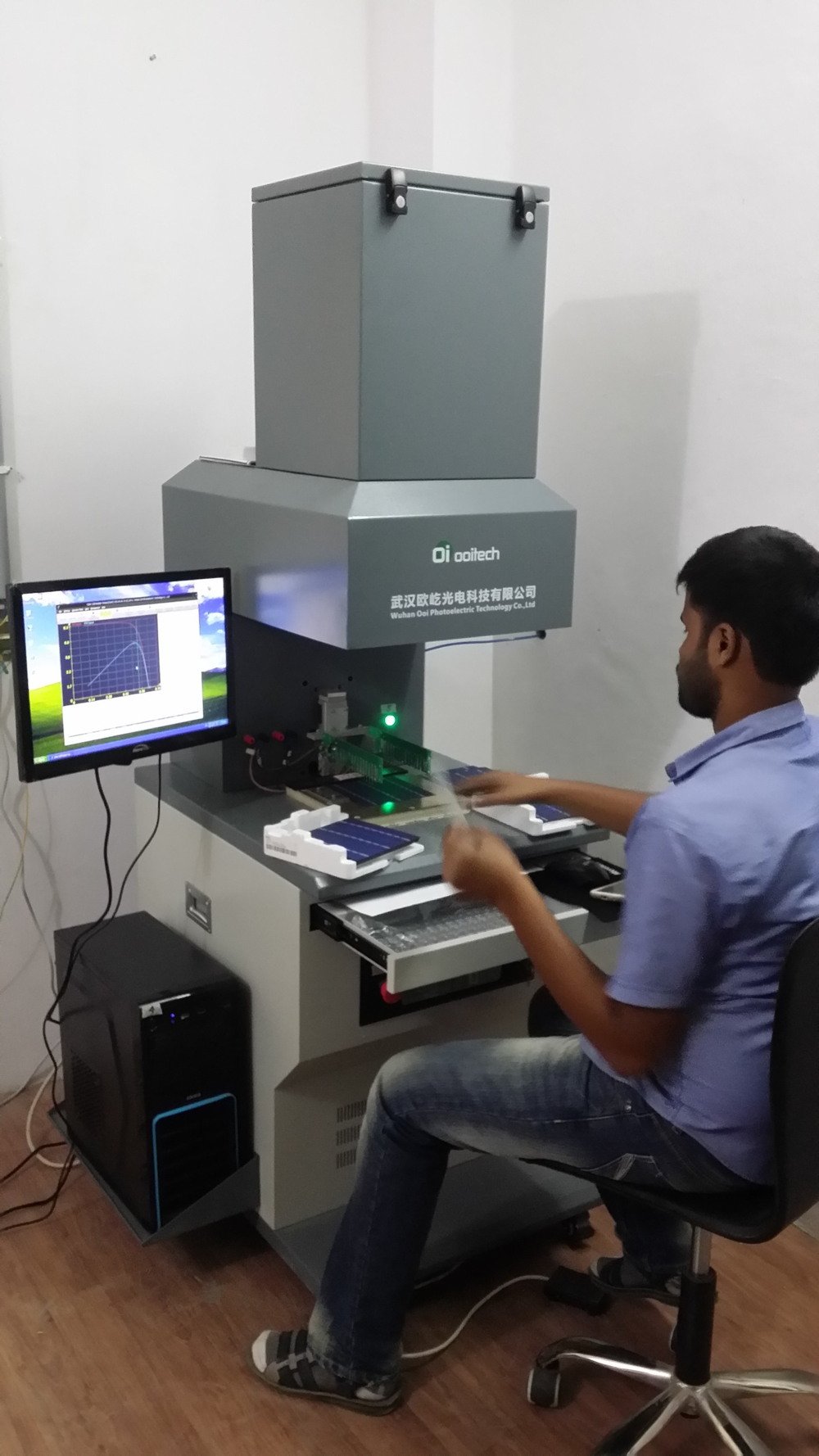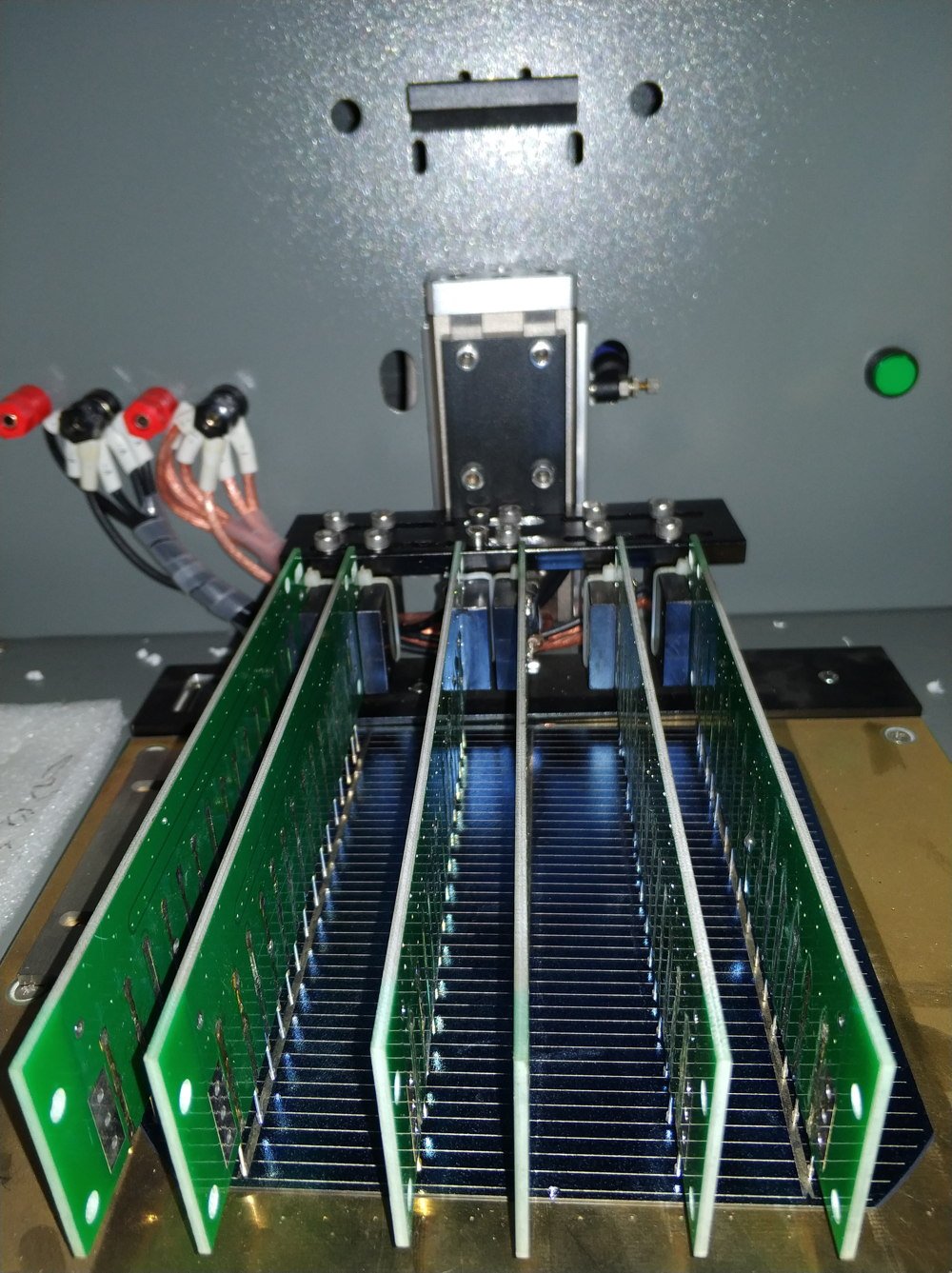 About US
Ooitech, One-stop Solution For Solar Panels Production Line.
Has The Following Required Machinery And Accessories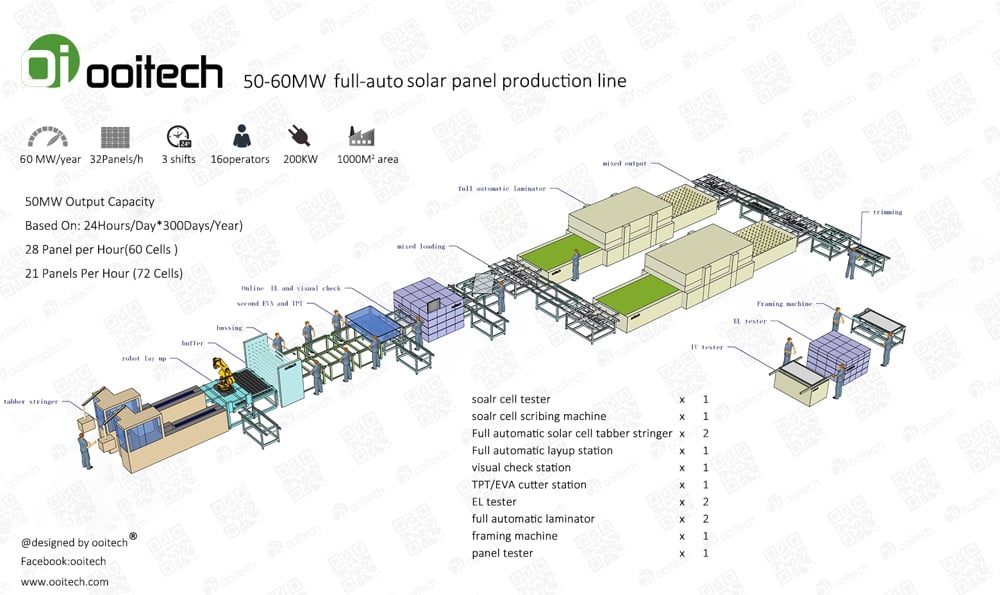 Ooitech "Turnkey Solution" Includes: Factory Construction, Facility Layout, Raw Materials BOM guidance, Production Procedure assitance, Solar Power Station installation technical support Etc.
Ooitech focus on:
Supply 1MW-100MW Solar Panel Making Machine
Update the traditional PV line to newest MBB solar panel production line.
Main machinery